Events
The Unconquerable Souls
Paralympians and MPs joined military veterans to celebrate future sporting stars at a charity event held in Hamilton House, Mayfair. AG supported the OppO Foundation by hosting the event and donating five wheelchairs to help military veterans continue their sporting journey.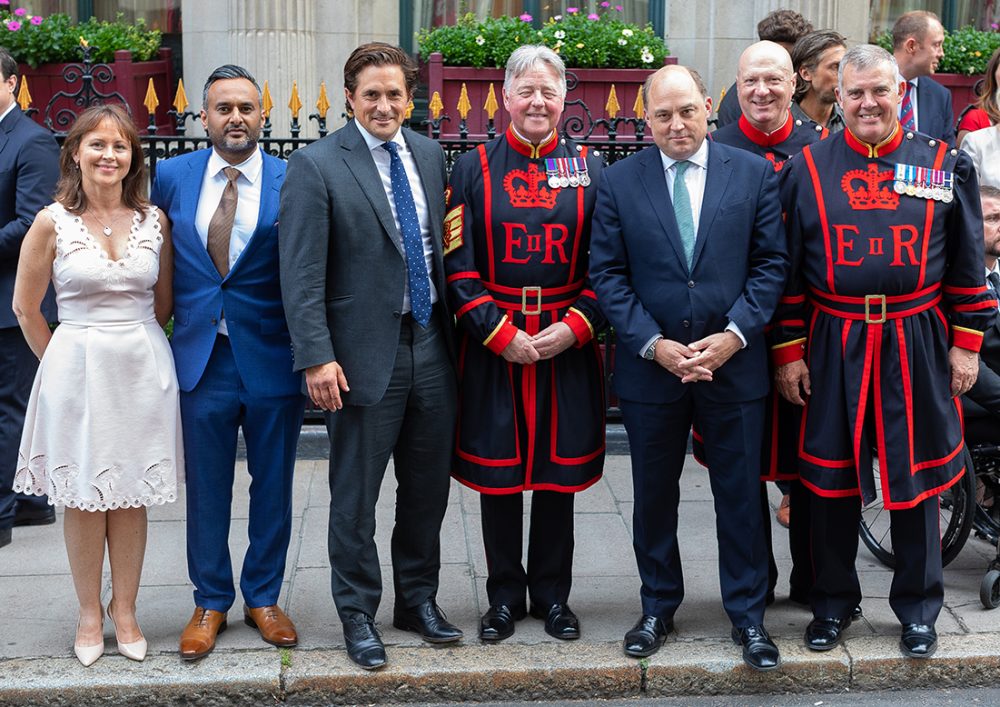 FUTURE Invictus Games and Paralympic athletes were celebrated at a glittering event held in Ambassadeur Group's Hamilton House, Mayfair. After a display by the Queen's Colour Squadron and RAF marching band outside the venue, three military veterans, handpicked by military charity the OppO Foundation, were presented with bespoke wheelchairs that will enhance their sporting ability.
Ben Wallace, Secretary of State for Defence, was joined by parliamentary colleagues and military veterans, Johnny Mercer MP and Steve Baker MP, in the surprise presentation. The wheelchair recipients were Chris Anslow, who trains with Team GBs volleyball squad, Rob Budgen, who is involved in rugby coaching and has been to the Veteran Games, and Dave Anderson, who competed in Wheelchair Rugby at the Invictus Games. Their new wheelchairs will now be custom designed to work for them.
All three veterans are pushing their physical and mental boundaries after suffering injuries during their military career; they are following in the footsteps of giants. One of these is Stuart Robinson MBE, who was part of the winning Great Britain wheelchair rugby team at the Tokyo Paralympics in 2021.
Stuart gave his time over several months in early 2022 for a film specially produced for the OppO Foundation|AG event. Titled The Unconquerable Soul, it tells the story of how the former RAF Regiment Gunner was injured in Afghanistan in 2013 when the vehicle he was travelling in initiated an IED (Improvised Explosive Device). The film's focus is on his recovery and how sport helps both mentally and physically. 'Sport plays a massive role – it increases the idea of working as a unit, that you are playing as part of a team,' he says. 'Even if you are playing an individual sport, you still have a team of people working around you.'
'It helps bring back some of those values from when you were serving in the military. It also helps you get fit and active and healthy again. And it gives you a focus so you have something to work towards.'
Stuart's words reflect the aims of the OppO Foundation, which was set up by Kayam Iqbal, who served 12 years in the RAF until he was medically discharged with PTSD after his last tour of Afghanistan. He talks about 'the invisible injury that abruptly ended my career', thrusting him into civilian life with little preparation. Named after the military word for buddy or friend, the OppO Foundation is about helping military veterans and their families and communities as they return to civilian life.
'The charity was set up for the sole purpose of helping others. It is to make a difference, to change perceptions, to tackle misconceptions and really work together and bring people together,' says Kayam.
One of the charity's projects is Team OppO, which has a focus on veterans who have been injured, wounded or are sick – mentally or physically – and are using sports for recovery. Donating wheelchairs to veterans with a sporting goal is a clear way of making a difference. Working with AG, which is focused on building better futures, to deliver on this goal has helped accelerate the charity's ambition.
'It was fascinating to see the work that AG is doing for many charities, how innovative they are and their ideals. Their beliefs really fitted with the Foundation's,' he says.
For Tracy Damestani, Head of Corporate Affairs at AG, the link with the OppO Foundation was obvious. 'We knew we had similar objectives and we aligned ourselves,' she says. 'We wanted to make a difference and we wanted to be innovative, but we wanted to make sure it made a real difference.'
The result of this alignment was the event on 12th July 2022. Having already funded wheelchairs and other sports equipment to Invictus, Kayam was clear that receiving a specialised wheelchair is transformative. 'It's very difficult to explain the impact it can have,' he says. With a substantial donation from AG the OppO Foundation is able to make a difference to some already remarkable lives.
For more information on the OppO Foundation https://www.theoppofoundation.com
To donate https://www.justgiving.com/oppo-foundation
We will be following the stories of Chris Anslow, Rob Budgen, and Dave Anderson, as they train and compete and coach in their chosen sport, over the coming months and years.