Events
Welcome to the Year of the Rabbit
Chinese New Year is not just one of the most important celebrations for Chinese people around the world, it is also the largest and most colourful event in Chinese culture. We found out what it means for some of the AG family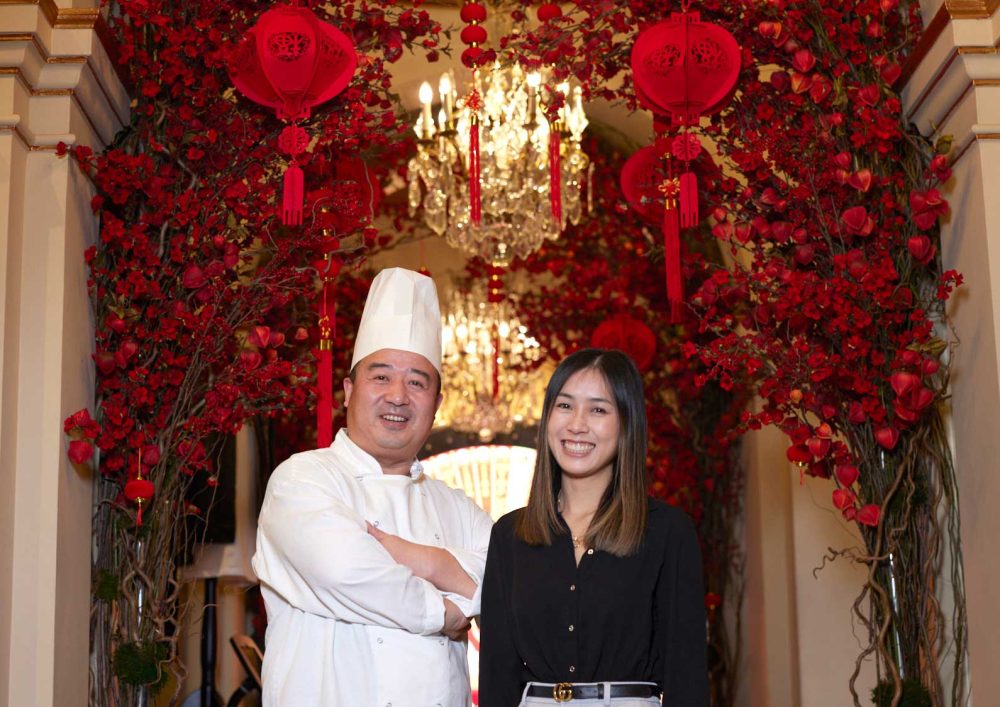 Sunday 22 January 2023 signalled the end of the winter period and the start of the Chinese New Year and the Year of the Rabbit. The Chinese lunar calendar means the official date changes each year; what doesn't change is the way it is celebrated across the world. The seven-day holiday is a time to spend with immediate family, extended family and close friends. It is filled with food, dancing, dragons, lions, lanterns, and parades.
Ambassadeurs Group (AG) has close links with China and many members of Les Ambassadeurs Club come from China or have Chinese heritage. The Club has been decked out to celebrate, whilst some of the staff – the WorkFamily – started the celebrations on New Years' Eve with their family. Kay Yan, Head of Domestic Marketing at Les A (pictured above with her colleague Yan Feng), says: 'I have to go back home and see my family. We have a dinner, and we cook a big feast. At the end of the 15 days of celebration we have to eat sweet dumplings.'
The focus on food is something that is replicated on Chinese tables across the world. As Kay explains, it doesn't matter how wealthy people there are always multiple dishes. Many include fish and seafood – fish in particular, is considered lucky, the Chinese word for fish even sounds like the word for luck – others include chicken, which has to be whole birds, which are considered lucky.
For Yan Feng – better known as Chef Feng at AG's 6 Hamilton Place – the focus on food is doubly important. 'I eat lots of fish including scallops and lobster. I am from the north-east of China, in Dongbei, where chicken won't be part of the menu.
'It is a very special day where all the family spend time together. The whole family make dumplings and fill them with coins for good luck.' He spends New Year cooking, eating and drinking, and playing games.' His chef recommendation is that people eat seabass with ginger and spring onions, dumplings and pork joint with Chinese seaweed.
Once Chinese New Year is underway the focus shifts from core family to visiting extended family. One of traditions is the giving of red envelopes filled with money in exchange for a happy new year greeting. This 'lucky money' goes to children and those who are unmarried.
In London the festival to mark Chinese New Year includes a famous parade and China Town is turned into a riot of red. 'It is about celebrating with the whole country and creating a lot of noise.' explains Kay. There are similar scenes in villages, towns and cities across the world. Lions and dragons dance, they stand outside businesses and perform, and red envelopes are fed to the lions and then spat out to bring luck for the year.
Traditions and superstitions extend to all twelve animals of the Chinese zodiac, which include the rat, tiger, dragon and the rabbit – this year's animal. They represent the passage of time and the cycle of years. But it is not just animals and food that have superstitions surrounding them. Other superstitions are around not cleaning during the early part of the new year, that is seen as sweeping good fortune out.
Inviting in luck or taking advantage of it is important. This extends to playing games such as Mahjong and visiting casinos. 'In Chinese tradition you want to play a game and win,' explains Kay. 'It is a good way to start the year. People go to the casino because people want to gamble during this time of good luck.'
For Kay whose parents are from Hong Kong keeping the traditions of Chinese New Year important. Although she was born in the UK spent a lot of time with her grandmother. 'I am trying to learn as much as I can to keep that going,' she says.