Giving Back
Changing the world, one coffee at a time
A charity that gives homeless people vital life skills by training them to work in its coffee shops celebrates the opening of a new London café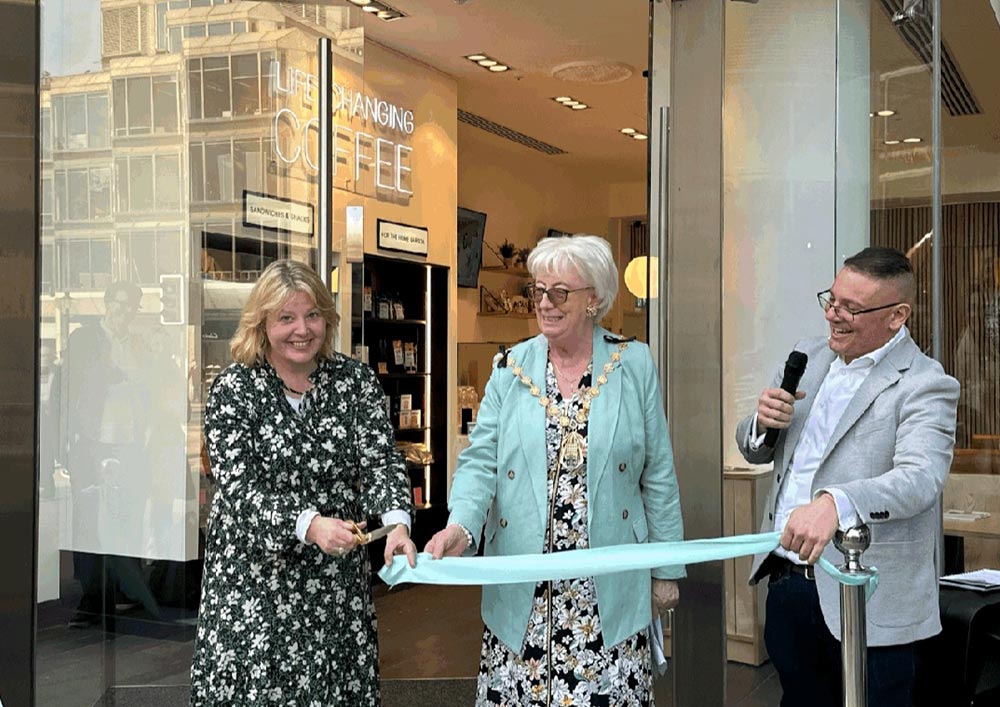 When Cemal Ezel founded Change Please in 2015 he had a simple aim: to help homeless people into jobs. He did this by capitalising on the ever-growing demand for coffee in the UK and beyond. The social enterprise trains people as baristas in its coffee shops, vans and in corporate partner outlets, giving them vital skills as well as a living wage job, therapy, a bank account, and hopefully helping them into permanent roles in the hospitality and catering sectors.
In early summer 2023 a new Change Please café opened in Victoria, central London. Since the Covid pandemic the charity has expanded, and the new café means even more trainees will be able to graduate as successful baristas. The trainee programme has been supported by a £50,000 donation from Ambassadeurs Group (AG), which will ensure the Victoria café can train baristas for 18 months.
Change Please provides an in initial three-day training at its Academy in Peckham, south-east London, before on-the-job training that lasts between one and six months and pays a living wage. Other support is given in the shape accommodation and therapy, and later through help with CV writing and work placements.
For people like Angus, Change Please is truly life altering. He graduated from the Peckham academy in March 2023 with new skills learned on the job serving coffee from vans and in the offices of some of Change Please corporate partners. 'I had never even heard the word 'barista' before I went to a job fair,' he says. Although Angus wasn't homeless, he had been in the past and was accepted as a trainee. 'I was fortunate,' he says. 'They also help people who have been homeless [in the past] – I had been homeless and also lived in hostels before I got a flat.'
Giving people a second chance
Angela Hay, Head of Fundraising at Change Please, says that around 15 people are currently trained each month and that the AG donation will make a huge difference, enabling more people like Angus to gain skills. 'The aim is to help give people a second chance and get them back on track,' she says. 'During lockdown so many people were homeless, especially among the under-25s. Homelessness silently creeps up.'
The work done by Change Please is a good example of corporate philanthropy explains Krishna Hathi, AG's Corporate Social Responsibility Adviser: 'Change Please has a unique and sustainable model to be able to support vulnerable people internationally. Its mission and people-centred approach has been shown to change lives and we are pleased to be able to support its training programme.'
Breaking out of the homeless cycle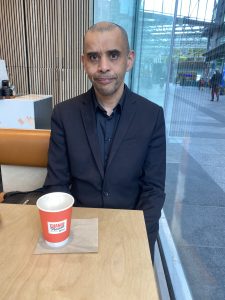 It is helping people like Angus, whose story is typical of those the Change Please team hear; a series of unfortunate events pushed him into homelessness. Angus graduated in music composition from the University of West London with a clear plan to work in the music industry. But he ended up couch surfing and 'overstaying my welcome'; he moved to Benidorm for five years where he was a drummer and bass guitarist and played for tourists. Back in the UK he met a partner who went into a women's hostel for help with an alcohol problem. They both ended up sleeping rough with Angus finally left on his own. He was helped by the homelessness initiative No Second Night Out, which ensures people who find themselves sleeping rough in central London for the first time need not spend a second night on the streets.
Good luck finally followed, and Angus ended up in his own flat, which he calls 'my palace'. There he can indulge his passion for cooking and love of music. 'Some people have four or five years in the system [before they get their own place] – fuelled by drugs and alcohol, and also mental health issues,' he explains.
With the skills he has acquired from Change Please Angus wants to get a part-time role as a barista so he can continue to work on his music. He is aware that he is one of the lucky ones – and that many of those helped by Change Please are less fortunate than he is but they are given an incredible opportunity by the organisation. He cites a trainee who came from a migrant boat that had capsized and who had seen people drown.
He also points to those people the charity helps who typically can't find their place in society: 'If you have a criminal record, it is extremely hard to get a job,' he says. 'But [with Change Please] you can still have opportunities to train. One of my mentors is in that position and has turned his life around. It is not only convictions that can hold us back. People get homeless for different reasons, and it is about breaking out of the loop.'
It's about more than coffee
Change Please prides itself on giving more than jobs to help people break out of this homeless loop; for example, trainee baristas gain social interaction from working in hospitality. Coffee connoisseurs benefit too. Change Please has a reputation for the quality of its staff as well as its coffee. Buyers source the very best tasting coffee to help Change Please competes with other coffee chains on the high street. It is already in eight countries including the US, France and Australia, as well as the UK.