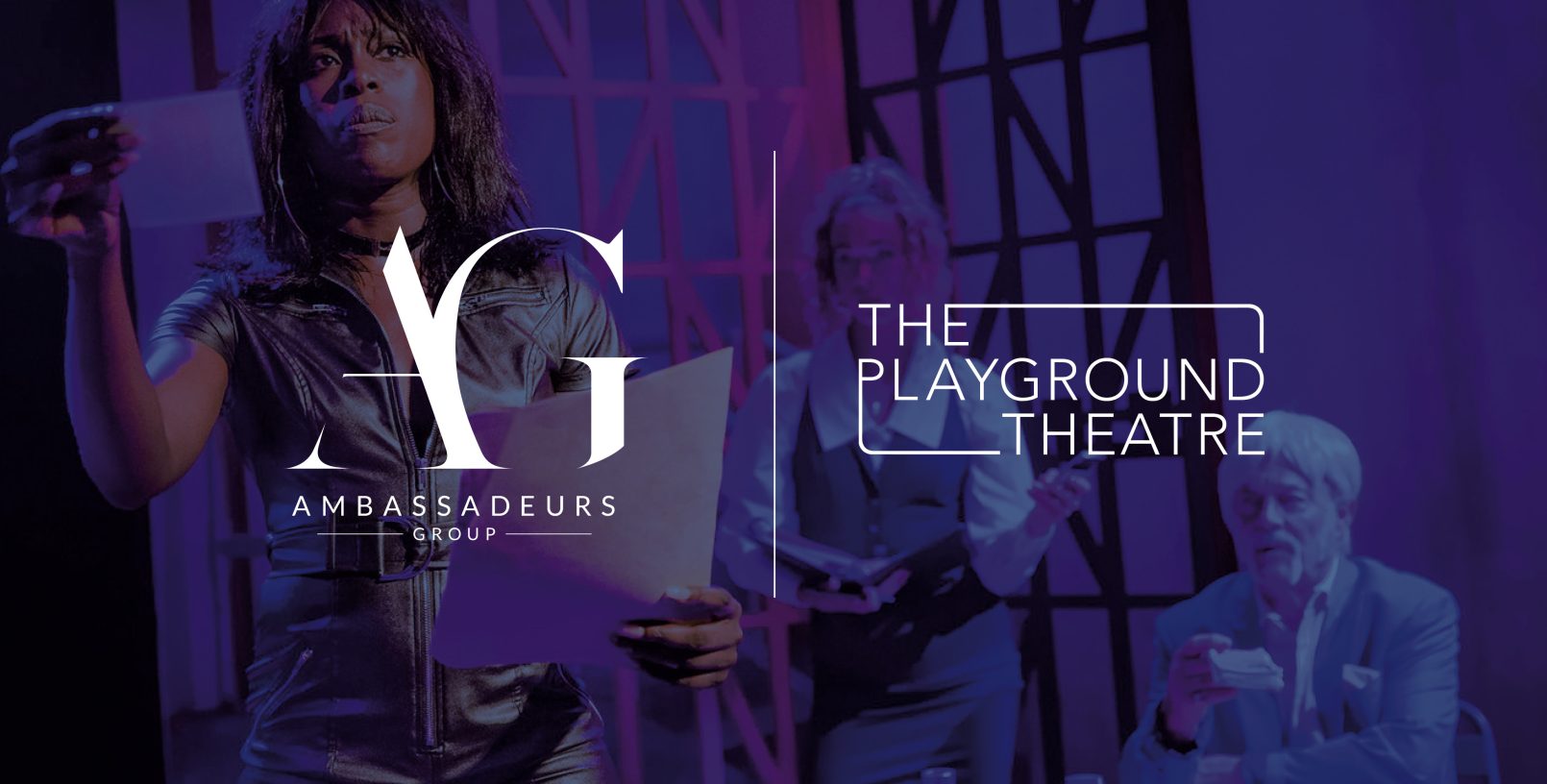 Giving Back
Curtain's up!
Ambassadeurs Group's new alliance with The Playground Theatre will give more artists the chance to develop, and will grow performance-based outreach projects in local communities
Theatre has an ability to connect people from all walks of life. It can move them to laugh and cry. It engages audiences irrespective of their income, gender, or ambitions.
It transports people to another time or place. It inspires. It celebrates heroes and it creates them. Done well it speaks a universal language. The Playground Theatre in west London does all this – and so much more.
The theatre, which is a registered charity, was conceived by its Co-Artistic Director Peter Tate in November 2017. It came about because of a desire for theatre artists to be able to perform without the pressure of a commercial outcome. In addition to putting on drama, musical theatre and comedy, the theatre is heavily involved in outreach projects such as Well Read, which takes performance into hospitals.
'Our outreach work is within the mental health area,' explains Peter. 'We started in St Charles Hospital Mental Health Unit with our Well Read programme, going in and encouraging patients to read the characters in a play. The key was finding a way for people to express themselves. We had a burning desire to change things. The Well Read programme is a way of connecting in a safe environment – you find a change in people from a very simple process.'
Well Read and the wider production and performance work fit with Peter's original idea of performance without pressure and inclusivity. These aims, that also include working with the community, resonate with Ambassadeurs Group (AG), which is focused on levelling up and building better futures for people and communities. In early 2022 AG hosted a fundraising event with the theatre to promote women in science through the development of a new play based on the life of mathematician, physicist and natural philosopher Emilie du Chatelet in the past. It now has an alliance in place with the Playground Theatre that will provide funding for two productions and some outreach work in 2023.
Tracy Damestani, Chief Corporate Affairs Officer at AG, says the alliance makes sense for the Group. 'We have been keen to work with the Playground Theatre because it embodies so many of the ambitions that AG admires. The way they use theatre and performance to do so much more than simply put on plays is impressive. They are not only helping the next generation of writers and acting talent, but their work in the community is impressive and we want to support this. Of course, the theatre productions are also there for everyone to see and be entertained and informed by.'
For Peter and Co-Artistic Director and Anthony Biggs, the AG alliance will enable them to build on their work. Like every other theatre in the UK, the Playground Theatre was closed during the pandemic. This halted some of the 'play' – when artists test out their ideas – as well as the productions. Productions and 'play' are now back. Emerging artists rub shoulders with Oscar, Bafta, Emmy, Olivier, and comedy award winners in the productions. According to Anthony there are several productions planned and more in the pipeline for 2023. 'We are open for everyone,' he says.
At the same time there are plans to expand outreach work, which already includes Well Written where people can present their own work to an audience – 'the transformation is astounding' when people do this, says Peter.
A new outreach project called 'Playground' is a space to play and create that will provide residents of the Lancaster West Estate and their neighbours, the opportunity to create new artistic work on their estate, by residents, for residents. The Lancaster West Estate is the location of Grenfell Tower, and the participants of the project are local residents who were directly affected by the fire. The work will be showcased locally, and residents will have the opportunity to learn from experts in film, poetry, music and drama, as well as Story Telling experts. As part of the programme, theatre will partner with other organisations including the National Theatre and the Royal Court Theatre, residents will have access to careers opportunities, internships, performance opportunities and new skills for employment.